17 Sustainability Development Goals United nations
On Thursday 15 June, Voka Flanders presented the laureates to companies that structurally committed to sustainable entrepreneurship in the year 2022 - 2023. Snick EuroIngredients drew up actions for this, linked to the seventeen Sustainable Development Goals, which were then evaluated by Voka in cooperation with the POM from the Flemish government. We are therefore particularly proud to have been awarded the laureate!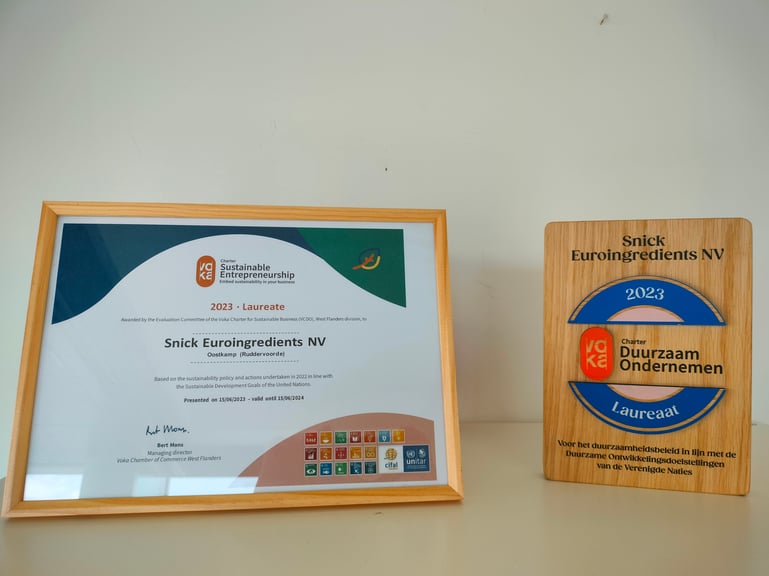 At Snick EuroIngredients, sustainability has long been a top priority. In 2021, the first steps were taken towards this laureate through the declaration of intent for the sustainability charter in 2022. This will require 10 successful actions, each focusing on one or more of the SDGs.
Snick EuroIngredients can proudly say that it succeeded in the 2022-2023 operating year. To this end, Snick EuroIngredients achieved laureate status for VOKA's sustainability charter.

This charter is based on the 17 sustainability goals (SDGs) that the United Nations aims to achieve. By working with the SDGs as its guiding principles, Snick wants to commit itself to creating a broad base of support and making progress both economically, sociologically and ecologically.
To this end, Snick took several actions both in different areas:
Personnel: investments were made in various lifting aids throughout production. This relieves staff of heavy lifting movements and ensures that they remain in better physical condition. After all, a healthy mind is always in a healthy body.
Environment: investments were also made in lighting within Snick. In the warehouse, all fluorescent lamps were replaced by LED lamps last summer. These lamps are more sustainable for the environment and provide more and brighter light. The latter has a positive effect on staff, greatly reducing the risk of adverse effects such as headaches.
Ecological: more waste streams are recycled. Previously, the compactor was overused. PMD bins, among others, have now been installed in the refectory. This ensures more recycling of the various waste flows.
In 2024, Snick wants to make further efforts to expand sustainability. Various, new projects are already in the pipeline!

More information on sustainability at: https://www.voka.be/vcdo